Tempvs Fvgit (FR) - 17th December
VEB2023 implementation
Szent Mauríciusz Monostor
VEB2023 implementation
Szent Mauríciusz Monostor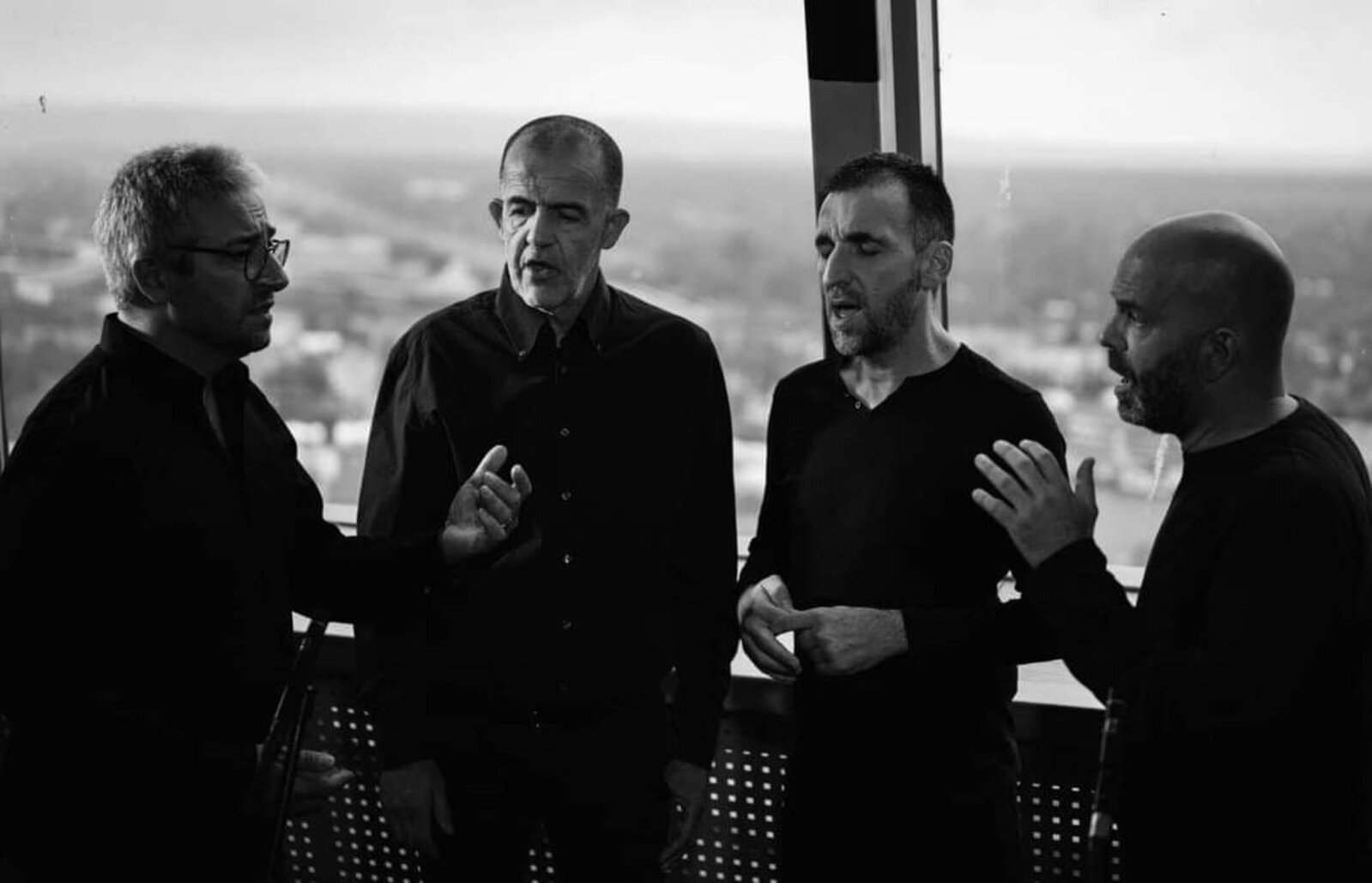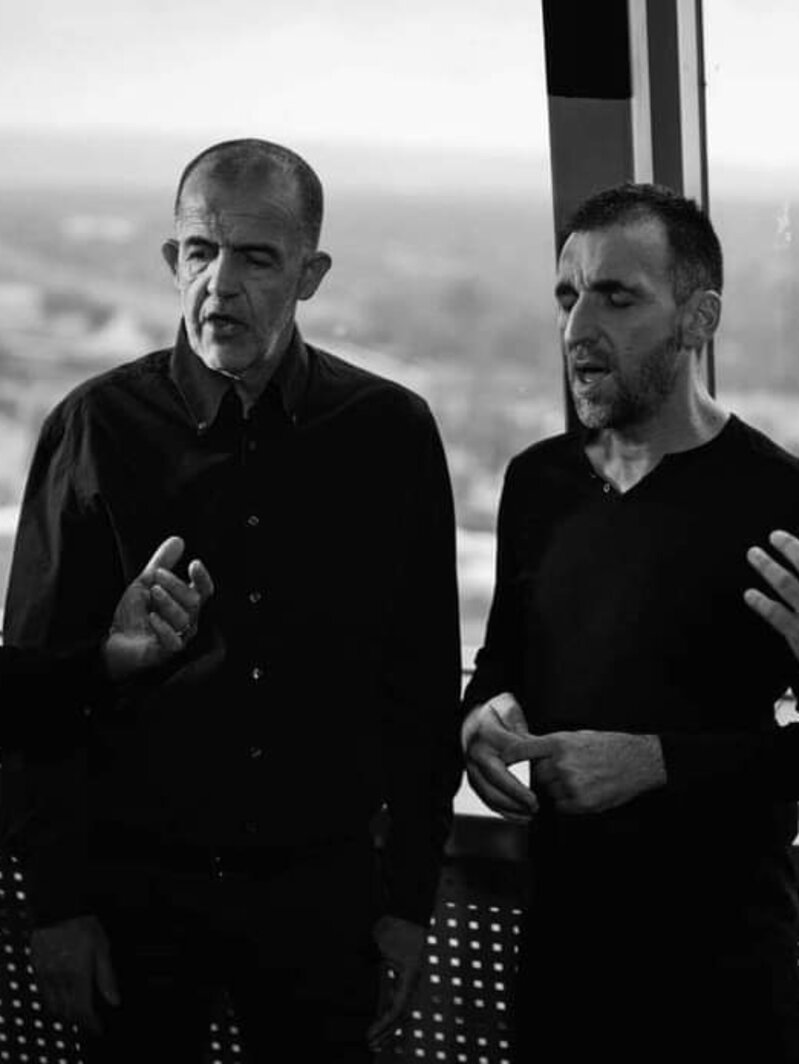 Concert
music
Information available in English
classical
Festive Shine
Fructus Labiorum
Tempvs Fvgit, a vocal ensemble that gives voice to time. The time that passes silently in Corsica, to the rhythm of the river, the seasons and the rituals that today retain their archaic flavor intact.
For faithfully transmitting and carrying beyond the island a sacred and profane polyphonic repertoire with extremely ancients origins, the members of Tempvs Fvgit have chosen the circle as basic symbol of their repertoire, echoing the circular shape usully used by polyphonic singer and time.
However, developing a specific scenic writing was a fundamental principle and a fundamental activity of Tempvs Fvgit ... to think of another form of Corsican polyphony still in motion that could be written and rewritten to infinity. The polyphonic ensemble Tempvs fvgit ... rooted in the traditional Corsican song, unfurls its foliage towards other harmonies. After the recording of the traditional Mass Vultum tuum (Nebbiu, 2003, Harmonia Mundi), nourished by readings, listening and meetings, with concerts given throughout Europe, Singapore and Japan, the formation undertakes a patient creative work: Passione (2008), E cusì sìa (2012), Ex Tenebris (2014), Da caminu (2017), Colomba /HistoiresCorse (2017) In Absentia (2019), ORA (2020).
Tempvs Projects
Despite the health crisis, over the past four years, Tempvs Fvgit has worked and participated in many projects. He created many perormances : Passione, E cusi sia, Da Caminu, Ex Tenebris, In Absentia and ORA, given many concerts in Corsica but also abroad, participated in the European project GritAccess.
In the last four years, we have also given workshops for professionals and amateurs everywhere: Worclaw (Poland), Lviv (Ukraine), Schwerte (Germany), Goloniow (Poland), Sczezcin (Poland).
We have collaborated with many cultural centers and institutes : Grotowski Institute (Poland), Word and voice (Ukraine), WayCreator (UKraine), Kreismusikschule Erding (Germany), Moagem (Portugal), Goleniowski Dom Kultury (Poland), La Fabrique de théâtre (Corsica), Centru culturale Alb'oru (Corsica)…
Tempvs fvgit, worked closely with the Grotowski Institute and the ZAR Theatre. During the Giving Voice festival we conducted several workshop dedicated to voice, breath, body in a Corsican tradition.
2023 In March and November a La Cartoucherie de Vincennes in Paris to work with IPAC formation
2022 Last year we were in Danmark and Sweden for concerts and workshops with Noor band
2022 In France for the project called Songs of war about war correspondences with artists from Ukrain, France and italy
2021 we participated in the European program GRITACCESS, a program dedicated to the Mediterranean Sea, in collaboration with 5 regions: Provence, Liguria, Tuscany, Sardinia and Corsica. We worked on the migrant crisis, and the Mediterranean Sea as a cemetery.
2020 In LVIV, In Ukraine, we worked with Nazar Romaniuk on traditional ARKAN warrior dances. We have set our voices in mouvement. We also worked on his dances in Corsica with him.
2019 We worked with the Kana Theatre, on the vertical character of our sacred repertoire. 7 concerts at dusk, at the time of the passage of the two worlds. We did 2 workshopsand one mass in Sczezcin
2018 We worked in Lviv with Natalia Polovynka around Vultum Tuum corsican mass and Mary virgine face.
2018 For Colomba/Histoires Corses, we worked on a text by Mérimé, which we deconstructed to make a modern text far from clichés. A show on the place of women in Corsican society, on reverse virility, power and violence and family. We worked with a female director and dancers.
Programme
VENI SANCTE SPIRITVS
KYRIE
AGNVS DEI
PERDONO
L'ORME SANGUINE
STABAT MATER
TOTA PULCHRA
L'OMU
AMEN
ALLELUIA NO NOBIS
CHRISTVS VINCIT
VELUM
INTROITVS VULTUM TUUM
KYRIE