Round Lake Balaton on Two Wheels - The Cycling Season Doesn't End in Summer!
As soon as we see September in the calendar, it's with a sinking feeling in our stomachs that we realise the end of summer is imminent. But the season doesn't end here, as Lake Balaton offers plenty of exciting activities besides beach holidays. Are you not keen on driving and bored of walking? Then hop on your bike and discover the beauty of the region on two wheels! Our article helps you do just that.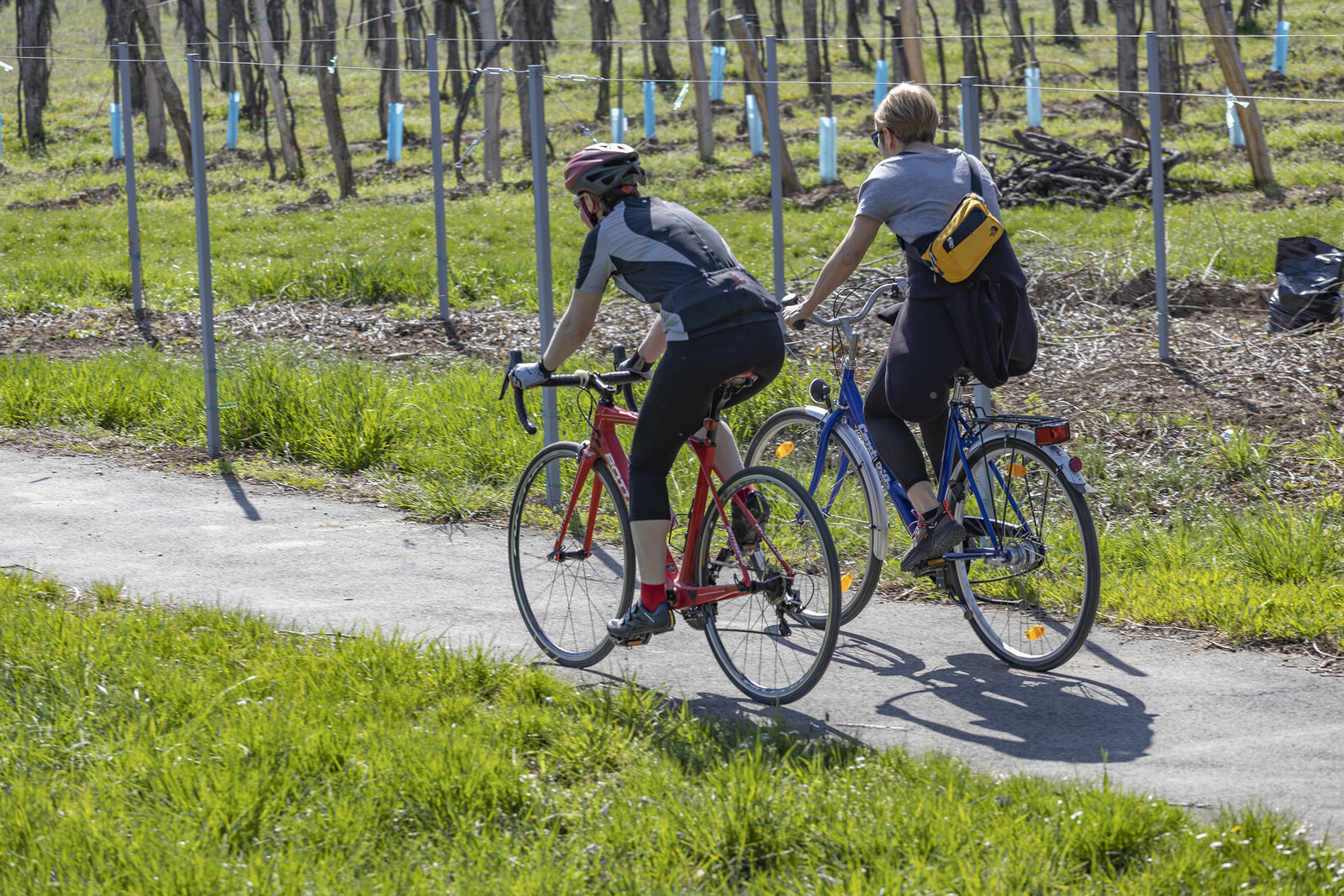 Did you know…


...that the total length of the Balaton Cycle Route is over 200 kilometres, and because it completely encircles the Lake, it is also called the Balaton Cycle Circuit? The bike path runs mostly along the shore of Lake Balaton, although it does stray a little from it in places. Starting from Balatonalmádi, you can roll along the roads and streets of the villages and enjoy the scenery. Balatonfüred, Tihany, Révfülöp, Badacsony, Szigliget, Keszthely, Balatonföldvár, Zamárdi and Siófok are just a few of the stops you can visit on the way around Lake Balaton, and in Balatonakarattya you can connect to the cycle path to the capital. When you hop on your bike, look out for the green signs along the way that mark the cycle route and even tell you exactly how many kilometres you need to pedal to the next station.
Path sections under construction and improvement
In recent years, the cycle path has been renewed in several sections: in the villages of Balatonakali, Révfülöp, Ábrahámhegy, Badacsonytördemic and Gyenesdiás, and now the section between Örvényes and Tihany has been completed. In a very recent decision, the construction of the Szigliget-Tapolca cycle path and the Fonyód-Csisztapuszta (Csisztafürdő) section will start soon, the latter with a 10 km cycle path linking it to the cycle circuit and expected to be completed next year.
Before you start off…
... be certain to check that your bike has all the necessary and compulsory equipment to ensure that no technical obstacles get in your way during the ride. If you do happen to forget something on the way or if an unexpected puncture happens, don't worry: there are a number of bike service stations around the lake, both on the north and south side, whether you're in Tihany, Szigliget, Keszthely, Zamárdi or Siófok. If you don't have a bike, you can even opt for a rental where you can choose a classic or a more upmarket one like an e-bike, which makes cycling much easier.
Recreation for body and soul
If the bikes are fine, don't forget to recharge your own batteries! As well as basics like staying hydrated, a few snacks between stops can be nice. On the shore, you can choose from a selection of buffets, fish stalls and yacht clubs, but if you're prepared with your own lunch, you can also relax and take in the panoramic views at iconic spots like Panorama Lookout in Balatonakarattya or Szépkilátó in Balatongyörök, where you can see almost the entirety of Lake Balaton. And in the evening, it's worth taking a seat on the terrace of a winery and relax your tired limbs with a glass of wine. You can split the route over several days, so you can extend your rest periods to the whole evening by adding places to stay.
Make the experience a combination of legs!
If you don't want to stay anywhere but don't feel pro enough to go all the way around the lake, don't give up on cycling, as you can shorten the ride by taking a train or a boat. Be sure to check the MÁV and Bahart websites for timetables in advance!